Search non-teaching vacancies in schools
The County Council is committed to equality of opportunity for all people in terms of recruitment, selection and employment, and is a Disability Confident employer, which means that all disabled applicants who meet the essential criteria in the person specification will be interviewed. However, commitment to this standard is on an individual school basis and, therefore, if you are applying for a position within a school, you will need to check with the school whether they have made the decision to comply with this standard.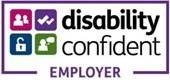 Supply vacancies
We have also have a range of supply vacancies across the county managed by Lancashire Teaching Agency.